CHATHAM MEN'S CLUB KICKS OFF IT'S 64TH SEASON
The Chatham Men's Club will kick-off its 64th  season on Friday, Oct. 1 with State Senator Julian Cyr speaking about current and proposed legislation of interest to the membership. After a year and a half meeting virtually via Zoom, CMC now plans to return to its traditional schedule of meeting in-person at the Chatham Community Center every Friday afternoon from 1 to 3 p.m. from October to May. Speakers' topics will include business and commerce, science and technology, the arts, recently authored books, relevant legislation, government and social services, environmental issues, and other subjects important to Cape Cod and Chatham.
In addition to the speaker program and occasional field trips, the CMC fosters a social environment where old friends can meet and new friends can be made. Coffee, fresh bakery items and stimulating conversation are served up every Friday prior to the start of each weekly meeting. The Club also recruits volunteers from its membership to work at the Chatham Railroad Museum, the Marconi Maritime Museum, Godfrey Windmill, provides financial support to the Chatham Food Pantry and actively participates in many of the community activities that make Chatham an interesting and charming place to live.
The Club welcomes all men who are registered voters or residential taxpayers of Chatham. For more information, review the Club's website or email inquiries to CRMA1712@gmail.com.
Thank you for visiting our website, and we hope to see you at a meeting!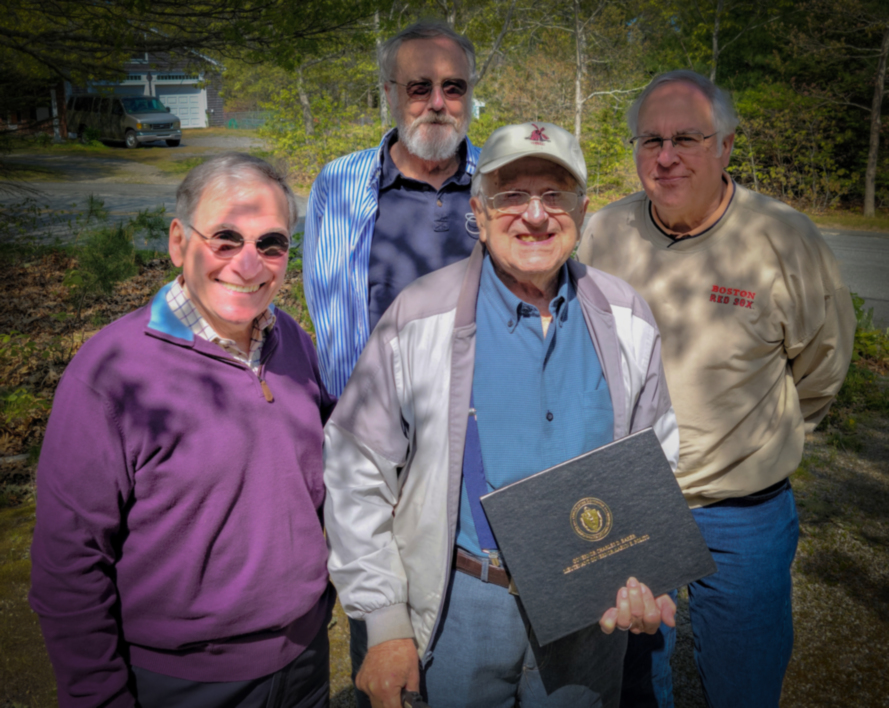 Happy Birthday Karl!
At its final virtual meeting of this season, the Chatham Men's Club celebrated – a bit early – the centennial birthday of 33-year member Karl Fehrle, who turns 100 on July 9. After the meeting, moderator George Lane (left), and executive committee members Tom Geagan (back center) and Chuck Borkoski (right), delivered a proclamation from Gov. Charlie Baker and Lt. Gov. Karyn Polito and gifts to Karl (front center) at his home. For the past 35 years, Karl has been involved in local Chatham organizations and currently plays the alto saxophone in four bands, including the Chatham and Brewster bands, Sentimental Journey and the Sound Dunes Ensemble.