August 19, 2020
Dear Fellow Chatham Men's Club members,
Over the past few weeks, our executive committee reached out to over 100 members of the Chatham Men's Club, and I am pleased to report that generally everyone is doing well. We also learned that most of you are able and willing to participate in Zoom meetings for the 2020-21 year considering that we still are not able to meet in person. And there are others who are willing to Zoom but would need help or instruction. Also, we learned that your preference would be to have Zoom meetings twice a month and that you generally favor for the coming year that we collect dues, publish a directory and support the Chatham Food Pantry.
Last week the executive committee met to discuss beginning our meetings for the 2020-21 year in October as we normally do and considered your feedback. Accordingly, we decided:
To Zoom meetings with guest speakers (except for the first Zoom meeting that will serve as a "test" meeting) on the first and third Friday of the month, beginning October 2. Meetings will be for one hour and begin at 1:30 pm, although members will be asked to sign in to Zoom at 1:15 pm so that we can help anyone having trouble signing in. Also, we will provide help and instruction to those willing to Zoom but needing assistance.
To establish a Zoom operating team to implement Zoom that includes Tom Geagan, chairmen, Jeff Gordan, Stu Tuchinsky, Chuck Borkoski, Kurt Shallow, George Lane and Ron Clark, who fortunately has considerable experience with Zoom and will be a big help to our committee.
To collect dues, publish a directory and continue our traditional monthly support of the Chatham Food pantry by setting up a venue where members can, in lieu of mailing a check, drop off cash or checks.
Although we are waiting with anticipation as to when we can meet again in person at the Community Center, our executive committee is trying to resume Club activities as normally as is possible under the circumstances. Zoom will not only enable us to meet but will also facilitate our CMC committees meeting for the purpose of conducting the necessary activities of our club.
So, please stay tuned, and we will continue to communicate our progress. Although we will be meeting virtually and without our cherished coffee and donuts, I hope you share my excitement that we will be kicking off our club meetings for 2020-21 in October as we always do.
Meanwhile, please stay healthy and stay safe.
George Lane, Moderator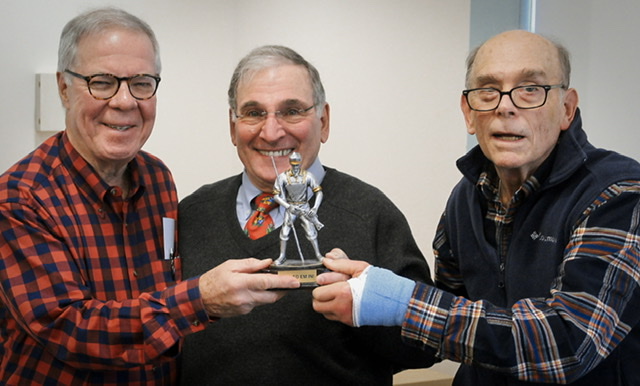 Schedule of upcoming events