May 24, 2020
Dear fellow Chatham Men's Club members,
This past Friday we should have been sharing pizza and beer at the VFW for our final meeting of the season. I would have enjoyed that, but it was not to be. Let's wait 'till next year as they use to say about the Red Sox.
Nevertheless, despite the Coronavirus and a shortened Club year, we accomplished a lot due to the great efforts of our members and the hard work of our standing committees:
We increased our membership to 156 members, meeting and exceeding our goal of 150 members.
We added 28 new members—great men whom I look forward to spending time with.
Our average attendance at meetings increased to 62 members and at times we had as many as 75 members. For the past few years, the Club has averaged closer to 50 members.
We donated $5,854.00 to the Chatham Food Pantry and $5,100 to the Chatham Coronavirus Impact Fund—a total of almost $11,000 to charities in our community serving the vulnerable of Chatham, particularly during this critical time
And I cannot wait until October when we will begin our 64th year. Please know that our Executive Committee is hard at work planning for next year. We met a few weeks ago to discuss how we can meet next year in light of the pandemic and assuming we are unable to meet physically. We are looking at Zooming or using a similar platform and having meetings that will include guest speakers. In August, we will meet again to finalize plans, and we will be advising you of our decisions. However, before that and probably sometime in July, a member of the Executive Committee will call you to see how you are doing as well as discuss thoughts about resuming our meetings in the fall.
Also, in a few days you will receive from me our Nominating Committee's recommendation for officers and standing committees for the 2020-2021 meeting year. I will be asking you to approve this new slate of officers and standing committees.
So, please know that your Chatham Men's Club is and will continue to be a vibrant part of the Chatham community. We are looking forward to our future and continuing to adapt to any challenges. And we certainly are not letting grass grow under our feet. Please stay safe and stay well. My best.
George Lane, Moderator
Tom Clarke, Chair, Executive Committee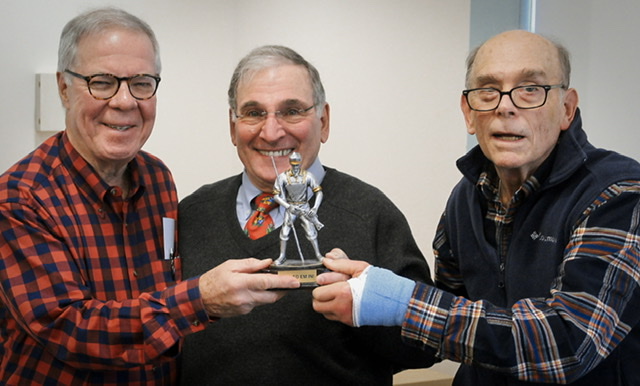 Schedule of upcoming events