March 11, 2020
Gentlemen:
The Executive Committee of the Chatham Men's Club has concluded that prudence requires, since our membership is comprised of "older adults" (a high-risk group for Covid-19), that we suspend our meetings starting with the meeting this Friday.
The Executive Committee has appointed a subcommittee, comprised of John Beckley and Nobel Hansen, to advise the Executive Committee regarding when circumstances are such that we can resume our meetings. As many of you know, Nobel is a doctor and John is the Chairman of the Chatham Board of Health.
We also wanted to bring to your attention a new website started by the Centers for Disease Control & Prevention; the URL is coronavirus.gov. It covers everything you may want to know about the virus, its risk, and steps that can be taken to minimize your exposure. Like the CDC website itself, this is a key resource for accurate information about the virus and related disease.
By the way, for hand-sanitizer, CDC recommends a solution that has at least 70% alcohol. We mention this only because in examining the market for such products we have noticed that some commercial suppliers are selling their product in bulk (one-gallon bottles), but the solution contained therein is less than 70%. Some unscrupulous individuals are also selling liquid silver products are "a cure." Besides turning your skin gray, these products are dangerous to your health. Do not be fooled by the claims made. Like we said, look for accurate guidance and information at coronavirus.gov.
George Lane, Moderator
Tom Clarke, Chair, Executive Committee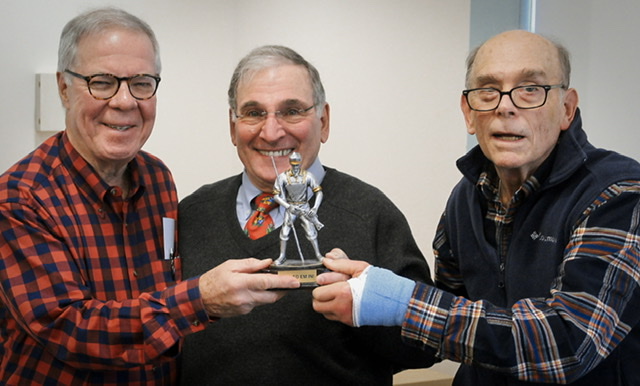 Schedule of upcoming events