CHATHAM MEN'S CLUB RECESSES FOR THE SUMMER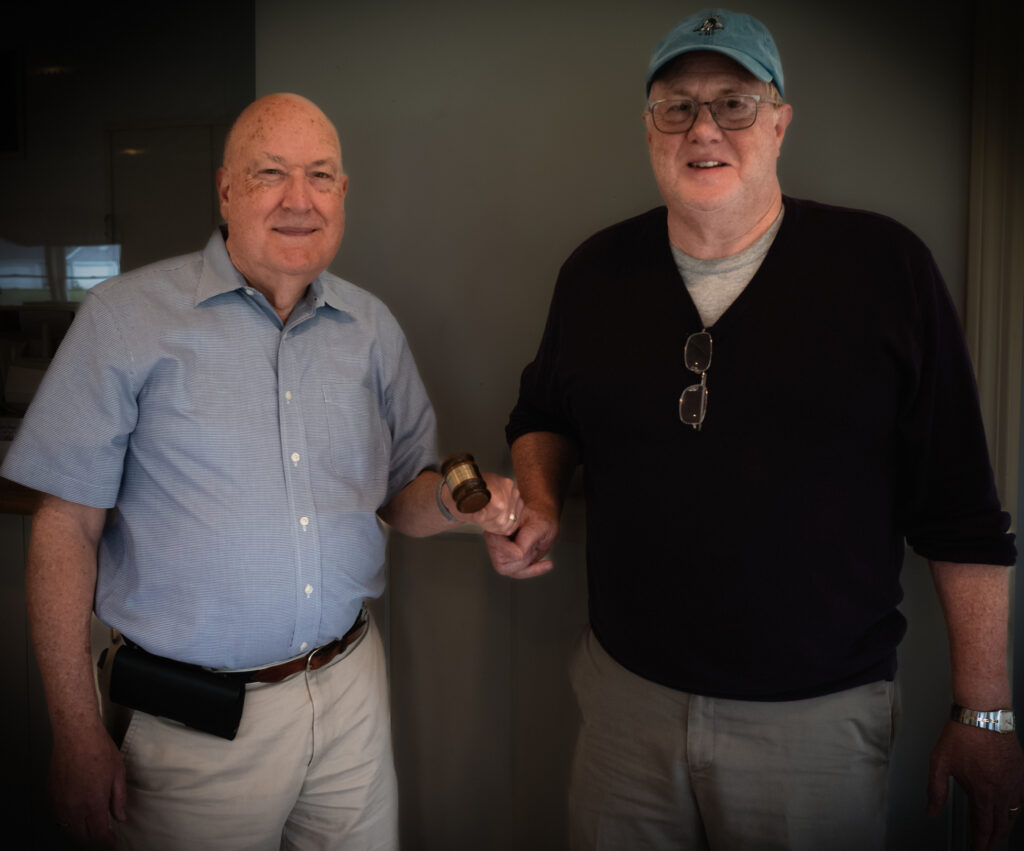 The Chatham Men's Club had its final meeting for this season at the VFW on May 27 and enjoyed a fun social event over pizza and refreshments. Also, the Club elected its officers and committees for the 2022-2023 season commencing in the fall. In the above photo, Larry Goodrich (L), the newly elected Moderator, accepted the gavel from Jeff Gordon (R), the past Moderator.
After a year and a half meeting virtually via Zoom, the CMC returned this year to its traditional schedule of meeting in person at the community center every Friday afternoon from 1 to 3 p.m. from October to May. Speakers' topics included business and commerce, science and technology, the arts, recently authored books, relevant legislation, government and social services, environmental issues, and other subjects important to Cape Cod and Chatham.
In addition to the speaker program and occasional field trips, the CMC fosters a social environment where old friends can meet and new friends can be made. The club recruits volunteers from its membership to work at the Chatham Railroad Museum, Chatham Marconi Maritime Center and Godfrey Windmill. It provides financial support to the Chatham Food Pantry and actively participates in many of the community activities that make Chatham an interesting and charming place to live.
The club welcomes all men who are registered voters or residential taxpayers of Chatham. All attending the meetings should be vaccinated. For more information, review the Club's website at www.chathammensclub.org or email inquiries to CRMA1712@gmail.com.
Thank you for visiting our website, and we hope to see you when we return on Friday, October 7, 2022, and Kevin McLain, Executive Director of the Chatham Orpheum Theater, will be our guest speaker.
---