The Chatham Men's Club concluded the 2020-2021 season in May.
Starting with the first Friday in October to the last Friday in May, we gather socially, over coffee and donuts, from 1:30 P.M. to about 3 P.M. at the Chatham Community Center for friendship and good conversation as well as weekly featured speakers on subjects thought to be of common interest to our members. Through the generosity of our members, we donate funds to the Chatham Food Pantry to assist local residents in need. Also, we volunteer our time at the Chatham Railroad Museum, the Marconi Maritime Museum and the Godfrey Windmill. For more information, review the Club's website or email inquiries to CRMA1712@gmail.com.
Thank you for visiting our website, and we hope to see you in October!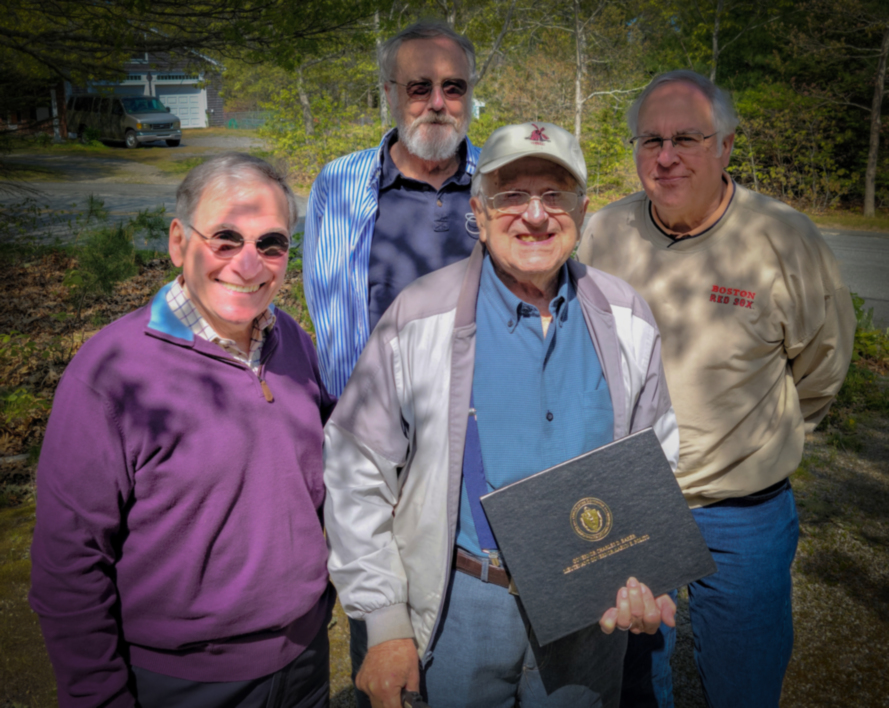 Happy Birthday Karl!
At its final virtual meeting of this season, the Chatham Men's Club celebrated – a bit early – the centennial birthday of 33-year member Karl Fehrle, who turns 100 on July 9. After the meeting, moderator George Lane (left), and executive committee members Tom Geagan (back center) and Chuck Borkoski (right), delivered a proclamation from Gov. Charlie Baker and Lt. Gov. Karyn Polito and gifts to Karl (front center) at his home. For the past 35 years, Karl has been involved in local Chatham organizations and currently plays the alto saxophone in four bands, including the Chatham and Brewster bands, Sentimental Journey and the Sound Dunes Ensemble.