CHATHAM MEN'S CLUB RETURNS October 7, 2022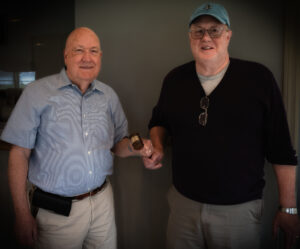 We plan to go ahead full steam, socializing with coffee and donuts at 1:00 p.m. and meeting in person each Friday.
Masks are optional, but we do ask that you be fully vaccinated if you plan on attending these meetings.
In addition to the speaker program and occasional field trips, the CMC fosters a social environment where old friends can meet and new friends can be made. The club recruits volunteers from its membership to work at the Chatham Railroad Museum, Chatham Marconi Maritime Center and Godfrey Windmill. It provides financial support to the Chatham Food Pantry and actively participates in many of the community activities that make Chatham an interesting and charming place to live.

The club welcomes all men who are registered voters or residential taxpayers of Chatham. All attending the meetings should be vaccinated. For more information, review the Club's website at www.chathammensclub.org or email inquiries to CRMA1712@gmail.com.
Thank you for visiting our website, and we hope to see you at future meetings for our weekly speaker program.
---